Friends Adults Diapers Product Range
Subscribe to save up to 10% on every order!
Pant Style Adult Diapers
Friends Dry Pants are easy-to-use underwear type diaper pants for adults. Designed to manage moderate to heavy urine leakage both in men and women, our pant style adult diaper pants are made with world-class high quality materials, are super absorbent, leak proof and comfortable to wear all day long. You can buy Friends disposable diapers for elderly for wholesale purposes from a known vendor, or purchase them from a local chemist, e-commerce stores or right here from our website.
Tape Style Adult Diapers
Friends makes the best tape style diapers India has ever seen!  Our super soft, super-absorbent Friends Tape Style Diapers for adults are designed for those with low mobility who are able to avail of caregiving assistance. Unlike other single adult tape style diapers, Friends adult tape diapers have two highly-advanced resealable tapes that can be adjusted to match the users' exact needs. The Friends Easy Adult Diaper's tape attaches to a plastic landing zone in the front of the diaper, while our Premium tape diaper variant comes equipped with the more advanced velcro technology. Both ensure comfort and leakage-safety for you and your loved ones!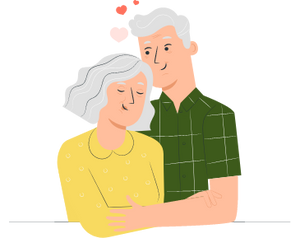 Why Subscribe?
Doorstep Delivery
Shop for the right disposable adult incontinence product for your loved ones from the comfort of your home and get it delivered to your home every month without any hassle.
Automated Payments
We believe in making lives easy! That is why we have developed an automated payments, monthly diaper-subscription plan to make your life hassle-free. Now there is one less thing to worry about!
Direct Helpline
Care is a constant process and while you take care of your loved ones we are here to solve any queries you have. Let us help you help them.