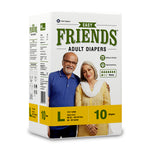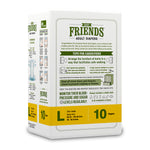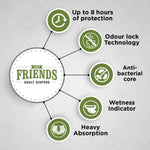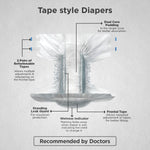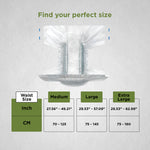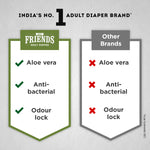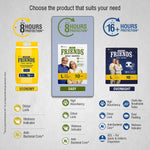 Friends Easy Adult Diapers
Friends Easy Adult Diapers Product Description
FRIENDS Easy Adult Diaper- Taped comes with an Anti-Bacterial Super absorbent gel core that quickly locks fluid away.
FRIENDS Adult Diaper ensures triple protection against odour, leak and moisture so that you can go about your day, worry-free.

FRIENDS Tape Style Unisex Diapers are designed for the Indian body type with refastenable tapes for a comfortable fit

FRIENDS Adult Diaper provides up to 8 hours of protection against moderate urine leakage.
Price is inclusive of all Taxes
Product or subscription discounts if any will be displayed and applied at final checkout page
Free Shipping above Rs. 350/-
Friends Easy Adult Diapers Product Description
FRIENDS Easy Adult Diaper- Taped comes with an Anti-Bacterial Super absorbent gel core that quickly locks fluid away.
FRIENDS Adult Diaper ensures triple protection against odour, leak and moisture so that you can go about your day, worry-free.

FRIENDS Tape Style Unisex Diapers are designed for the Indian body type with refastenable tapes for a comfortable fit

FRIENDS Adult Diaper provides up to 8 hours of protection against moderate urine leakage.
Price is inclusive of all Taxes
Product or subscription discounts if any will be displayed and applied at final checkout page
Free Shipping above Rs. 350/-
Friends Easy Adult Diapers Product details
Product Dimensions ‏ : ‎

 51.8 x 28.2 x 20 cm; 2.65 Kilograms

Manufacturer ‏ :

‎ NOBEL HYGIENE PVT. LTD.

Item Weight ‏ : ‎

2 kg 650 g
| Friends Easy Adult Diapers | Price(₹) |
| --- | --- |
| Friends Easy Adult Diapers [Medium] Pack of 10 | 545.00 |
| Friends Easy Adult Diapers [Medium] Pack of 30 | 1231.00 |
| Friends Easy Adult Diapers [Medium] Pack of 60 | 2429.00 |
| Friends Easy Adult Diapers [Medium] Pack of 120 | 4949.00 |
| Friends Easy Adult Diapers [Large] Pack of 10 | 547.00 |
| Friends Easy Adult Diapers [Large] Pack of 30 | 1367.00 |
| Friends Easy Adult Diapers [Large] Pack of 60 | 2563.00 |
| Friends Easy Adult Diapers [large] Pack of 120 | 5354.00 |
| Friends Easy Adult Diapers [XL] Pack of 10 | 636.00 |
| Friends Easy Adult Diapers [XL] Pack of 30 | 1408.00 |
| Friends Easy Adult Diapers [XL] Pack of 60 | 2676.00 |
| Friends Easy Adult Diapers [XL] Pack of 120 | 5610.00 |
Friends Easy Adult Diapers Customer Reviews
Awesome!
This diaper has solved so many problems for my dadi.
No more leakage!
Amazing product
I bought this product for my mom and it's made her daily work routine much easier... worth the price...
Worth it
Very comfortable to use. Great product for parents and senior citizens.but the price is a little bit high as compare to local shops.
Recommanded
My Amma is using these diapers as she cannot walk to the washroom and they are best. We tried other brands as well but these are best and after subscription they are avaible for much cheaper price than retail.