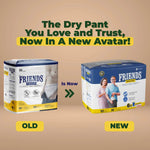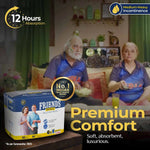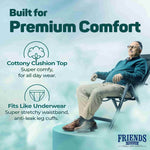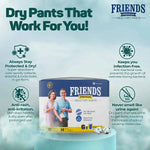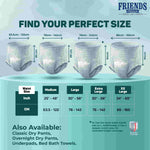 Friends Premium Adult Dry Pants
Friends Premium Adult Dry Pants Product Description
FRIENDS Premium Adult Dry Pants provide up to 10 hours of protection

against leakage and moisture

due to their super absorbent core with a rapid absorption layer.

Comfortable Underwear-like Unisex Adult Dry Pants which come with brief-like leg openings that make it easy to wear.

These Adult Dry Pant's

with waise elastic

are specially designed for Indian body type which provide a snug fit.

FRIENDS Adult Dry Pants ensure worry-free odour control.
These Adult Dry Pants and an anti-bacterial SAP to reduce rashes and infection
Price is inclusive of all Taxes
Product or subscription discounts if any will be displayed and applied at final checkout page
Free Shipping above Rs. 350/-
Friends Premium Adult Dry Pants Product Description
FRIENDS Premium Adult Dry Pants provide up to 10 hours of protection

against leakage and moisture

due to their super absorbent core with a rapid absorption layer.

Comfortable Underwear-like Unisex Adult Dry Pants which come with brief-like leg openings that make it easy to wear.

These Adult Dry Pant's

with waise elastic

are specially designed for Indian body type which provide a snug fit.

FRIENDS Adult Dry Pants ensure worry-free odour control.
These Adult Dry Pants and an anti-bacterial SAP to reduce rashes and infection
Price is inclusive of all Taxes
Product or subscription discounts if any will be displayed and applied at final checkout page
Free Shipping above Rs. 350/-
Friends Premium Adult Dry Pants Product details
Product Dimensions ‏ :

‎ 44 x 21 x 20 cm; 1.94 Kilograms

Manufacturer ‏ :

‎ NOBEL HYGIENE PVT. LTD.

Item Weight ‏ : ‎

1 kg 940 g

Item Dimensions LxWxH ‏ : ‎

 44 x 21 x 20 Centimeters
| Friends Premium Adult Dry Pants | Price(₹) |
| --- | --- |
| Friends Premium Adult Dry Pants [M] pack of 10 | 548.00 |
| Friends Premium Adult Dry Pants [M] pack of 30 | 1568.00 |
| Friends Premium Adult Dry Pants [M] pack of 80 | 4175.00 |
| Friends Premium Adult Dry Pants [L] pack of 10 | 628.00 |
| Friends Premium Adult Dry Pants [L] pack of 30 | 1848.00 |
| Friends Premium Adult Dry Pants [L] pack of 80 | 4866.00 |
| Friends Premium Adult Dry Pants [XL] pack of 10 | 633.00 |
| Friends Premium Adult Dry Pants [XL] pack of 30 | 1896.00 |
| Friends Premium Adult Dry Pants [XL] pack of 80 | 4666.00 |
| Friends Premium Adult Dry Pants [XXL] pack of 10 | 745.00 |
| Friends Premium Adult Dry Pants [XXL] pack of 30 | 2235.00 |
| Friends Premium Adult Dry Pants [XXL] pack of 80 | 5960.00 |
Features Of
Friends Premium Adult Dry Pants
Friends Premium Adult Dry Pants Customer Reviews
Very helpful!
My mom keeps going to bathroom at night so i made her where these dry pants! We both sleep properly now
Best buy it.
Good fitting and looks great. Very convenient for those who wear it under their dress while travelling.
BEST PRODUCT FOR ELDERS
I bought many different brands for my mother So far Friends Premium is the best.
Great comfort for elders with incontinence
Great comfort for elders with incontinence, better padding than the 'depends' I got from the US. Pull-ups are convenient as the elder can use it like an underwear instead of being dependant on someone to change the taped-variety of adult diapers.
Useful product for bladder problems.
Very useful product for people with bladder and old age problems. Had bought them for my mother in law before and she really liked the daipers, so now I ordered in bulk. As per her, they fit snuggly and no leakage issue. She uses them during night only. Easy to waer with no sticking headache. Though bit expensive but worth it.